BioFreeze Pain Relieving Roll-On
& ThermaCare Heat Wraps
One of the numerous non-prescription items that I've tried and used with great success is Biofreeze.  I first had a chiropractor recommend it in 2007. 
I used it regularly for the next few years.  I recommended it to others for their various pain issues (knees, back, neck, shoulders) and they too found it offered some relief. 
I am not saying that if you have horrible pain levels that it is enough in and of itself.  Even pain pills and other pain related prescription pills don't always address severe pain successfully.
I am saying that in my over 10 years
of chronic pain management,
I have come to realize that
successful pain management
is not about just one thing,
it is about everything!
I've paid anywhere from $7-$13 for this roll-on.  One thing that I will say happened that was disappointing, was that at some point a few years into using it, I put it on my neck/shoulder area and  developed a red rash immediately.  Thus, I discontinued use. 
It appeared that I had developed a tolerance, or, intolerance depending on your perspective.  Since this is a normal situation for both OTC and prescription products, I didn't bother reaching out to the company because the red rash wasn't painful and disappeared quickly. 
The good news is that none of those to whom I recommended this product, used it as much as I did; thus, none of them had that reaction. 
I have used the same body wash and laundry detergent for over a decade and I rarely wear perfume so I know the rash wasn't the result of such mitigating factors. 
Especially because at some point, I ended up having the same situation occur with the OTC Thermacare heat wraps I had used numerous times successfully, over a period of a few years. 
Then one day, I put them on my lumbar spine region as usual and got an immediate and intensely negative red, itchy pain reaction, thus, I discontinued those as well. 
But again, they are a fine product and I can recommend them proudly to anyone seeking relief from a heat perspective that doesn't require you to stay home to administer.  If you are at home, I highly recommend the Thermophore moist head pad that I use.  Check out my review of it at the link below.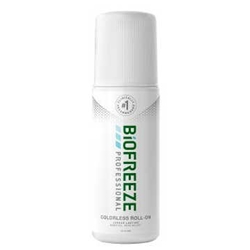 If you would like to learn more about BioFreeze, here is their site link:  http://www.biofreeze.com/